ChicagoVeg Outreach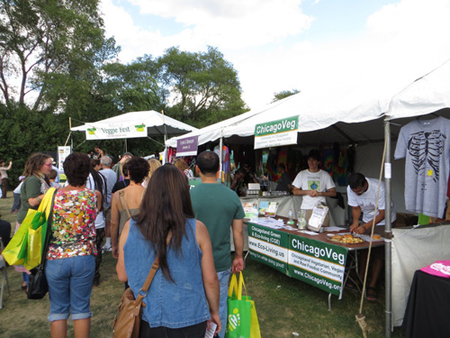 ChicagoVeg Outreach is an extension of ChicagoVeg – Chicagoland Vegetarian, Vegan, & Raw Food Community.
The mission of the ChicagoVeg Outreach is to enable members to make a positive difference by educating others that we can all live happy and healthy lives following a vegan/vegetarian diet. We know there are numerous benefits of a plant-based diet: health benefits, ethical reasons, and ecological advantages.
Why ChicagoVeg Outreach?
ChicagoVeg Outreach will provide the opportunity for members to turn their knowledge and compassion into actively educating the public.
3 factors that make ChicagoVeg Outreach different:
ChicagoVeg supports a non-judgmental environment where everybody is welcome to join in the outreach meetups regardless of their diet, lifestyle, or philosophy.
The focus of the outreach meetups will be on what we support, not what we are against.
Our outreach meetups will be focused on delivering our message and having an additional social/fun time for the participants. This group is perfect for vegans, vegetarians, animal, health and environmental activists; or anyone who supports them to make the difference around us and in the world! "Think globally - Act locally!"
Please watch for our upcoming events to participate in raising consciousness in our community: Meetup.com/ChicagoVegOutreach. For any questions, suggestions, or if you would like to help organize ChicagoVeg Outreach events, please contact the group Organizers .
~ BE THE CHANGE! ~